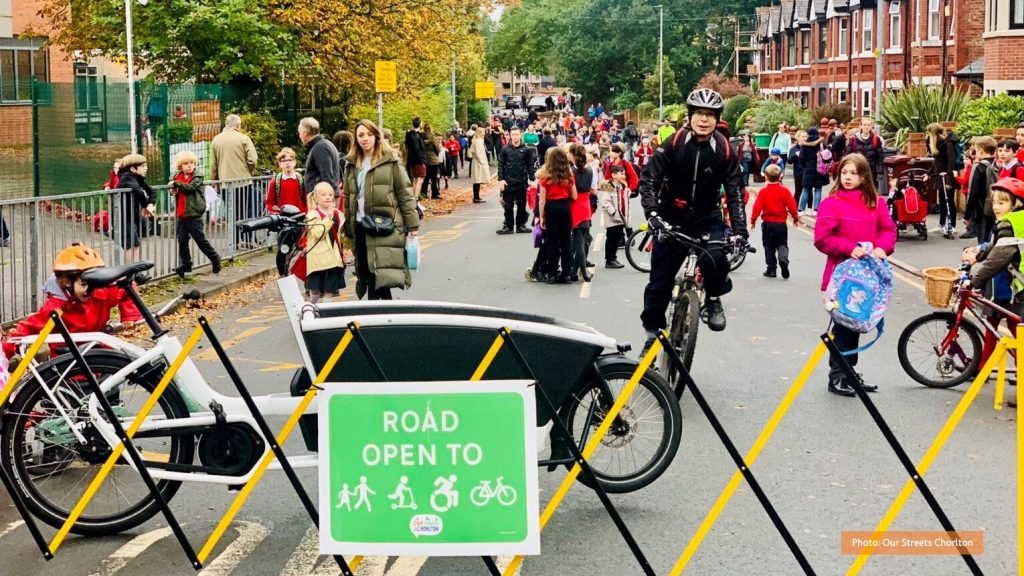 Team
Dr Angela Mae Minas, University of Manchester (CAST)
Dr Sarah Mander, University of Manchester (CAST)
Councillor Eve Holt, Chorlton Climate Action Partnership and GM Moving
Sam Milson and Julian Tait, Open Data Manchester
Claire Stocks, Walk Ride GM
Michaela Howard and George Coombs, Groundwork
Alice Swift, Sustrans
Summary
Our Streets Chorlton (OSC) is a community-led initiative in South Manchester that aims to reduce car use for short journeys. With support from the National Lottery, OSC has engaged in activities that allowed them to gather support and build a network of local people, and understand the factors that help shape the communities' travel decisions. The CAST Impact Funding allowed researchers from the University of Manchester, Dr Angela Mae Minas and Dr Sarah Mander, to engage with OSC as embedded researchers and members of their Partnership.
The need
The role of grassroots actors in climate change mitigation is widely recognized, yet within studies of transport and mobility, less is known about how grassroots projects can influence peoples' local travel decisions. We contribute to filling this gap by exploring how protective spaces of grassroots movements can be nurtured to drive mitigation actions. Using a range of methods, including interviews and community surveys, we gained insights on how OSC's 'bridging role' contributes to increasing interest in making low carbon travel choices, and in overcoming their barriers to transforming travel such as transport infrastructure, convenience of car use relative to people's routine and different commitments (e.g., work, caring responsibilities). Our findings highlight the need to build and/or strengthen 'bridges' between communities and the regime (existing ways of doing travel) if community-based initiatives are to be successful.
Research activities
The team took the following steps:
Stakeholder mapping workshop (Mar 2021) – The team facilitated two workshops to identify OSC's stakeholders (Who can be key to the success of OSC?) Outputs from this workshop informed the design of a social network analysis (SNA), the results of which were presented to the OSC Partnership (June 2021). The SNA helped them identify where connections in the community are strong and where else they need to be built or strengthened. This supported OSC's engagement strategies.
Community survey (Your Chorlton, Aug 2021) and travel survey (Your Journeys, Feb 2022) – The researchers co-developed surveys with OSC to understand the factors that shape the community's travel decisions. Headline messages from the analysis were presented (as posters, and via conversations with community members) at OSC's event where they shared lessons from their work (Mar 2022). The team also produced flyers and contributed to blogs (community, travel) to showcase results from these surveys. 
Reflection interviews (May – Jun, Oct – Dec 2022) – The team conducted interviews with members of the OSC Partnership and their stakeholders (community members, local councillor, funder) to capture lessons learned from the project and identify transferable insights. The results were presented to OSC (Jun 2022). The team also produced a briefing note outlining recommendations for the National Lottery (Sep 2022).
The researchers also contributed to OSC's mini-projects through in-person community engagement activities: traffic counting, residential surveys, school streets, and parklets; and through online fortnightly community forums. With additional support from the University of Manchester, we also hosted two student interns (Summer 2021 and Summer 2022) to support the work of OSC.
Impact
Presentations to groups outside Manchester (Jun, Jul 2022, Oct 2022) – We have presented insights from our work with OSC to an academic conference (Energy Research and Social Science Conference, Jun 2022), a workshop with other organisations working on sustainable mobility (Julie's bicycle with support from Arts Council England, Jul 2022), and a webinar on transport decarbonisation hosted by Climate Outreach (Oct 2022).
Contribution to further funding bid (Jan 2022) – We supported OSC to apply for additional funding from the National Lottery's Climate Action Fund. Whilst OSC did not secure the full award, they received bridge funding to organise a series of workshops and share lessons from the project.
---
For more information about this project, please contact Dr Angela Mae Minas, at angelamae.minas@manchester.ac.uk