By Dr Amiera Sawas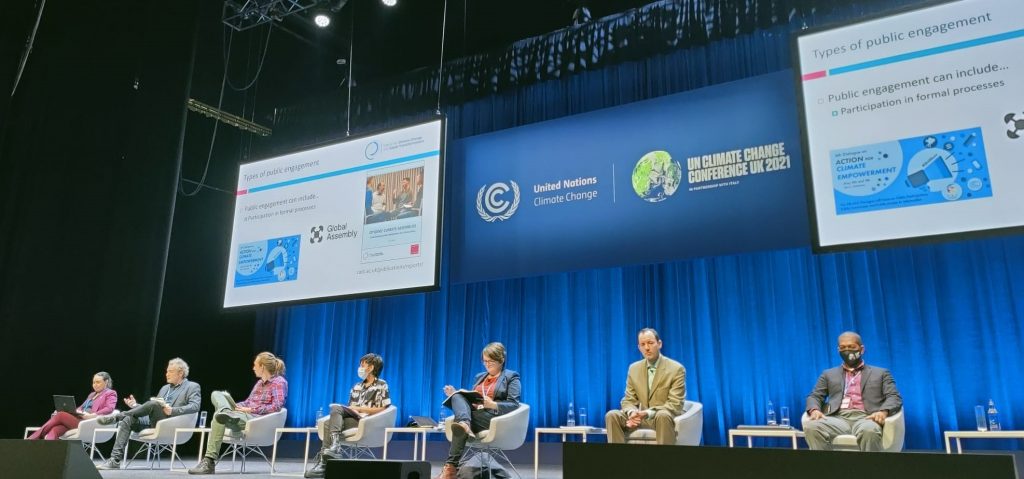 Four weeks after the last gavel landed at COP26 in Glasgow, the team at CAST are reflecting on what the international negotiations mean for our work.
CAST's mandate is to research and advocate how societies can live differently – and better – in ways that meet the urgent need for rapid and far-reaching emission reductions.
We already know from our research that although there is strong international momentum on climate change mitigation, critical targets will be missed without fundamental changes to the way people live. Ultimately, to meet the 1.5C global emissions reduction target, both people's lifestyles and governance systems must be transformed, particularly in countries that have driven the problem of climate change through their historic emissions.
The role of people in the United Nations COP agenda
Despite the central need for people to take actions – whether in their lifestyles, at work or in their voting choices – in order for current decarbonisation plans to work, their role has been sorely missing from COPs to date. Public engagement is a component of the UN Framework Convention on Climate Change's 'Paris Agreement' (under Article 12 – Action for Climate Empowerment) – so this topic should have the serious attention of 'parties' (governments) who are responsible for implementing it, and 'observers' (such as NGOs, universities and the private sector), who are there to hold governments accountable. 
But, before CAST arrived in Glasgow, we noted a gaping hole in the event agenda. We observed in our round up of public engagement related events at COP26 that in the 'blue zone' where the intergovernmental negotiations take place, public engagement was barely visible, aside from a small number of events organised largely by CAST and its partners. This sent a worrying signal about stakeholders' awareness of how important people really are in reaching our global climate targets.
CAST at COP26
Nevertheless, CAST sent 11 delegates to COP26 with the aim of building awareness about the importance of public engagement on climate change and lifestyle change. We hosted three events, reaching nearly 10,000 people in person and online. These included one of the first events of the conference Catalysing our Net Zero Future: working with people to take action on climate change | #COP26 – YouTube (watch from 28 minutes). The event looked at the ways citizens must be engaged and have access to information that can support them to take action in order to effectively and fairly tackle climate change. 
Another of our events, Tackling climate change needs civil society: insights on public engagement for climate action – YouTube, saw a discussion on how governments and citizens can co-create movements for transformative change, considering how citizens and other stakeholders can contribute to decision-making and drive change in their communities.
We subsequently had dozens of interesting conversations with governments and observers about the need to ramp up attention regarding the role of people in driving forward the climate transition. This tells us that there is scope to put people at the heart of climate action, but that institutions – private and public – need support for how to do this. Thankfully, CAST comes armed with evidence on what works!
Reflections on COP26
So, what did our CAST colleagues think of the place of people and public engagement at COP26? As Professor Lorraine Whitmarsh, Director of CAST, explains here – the COP negotiations gave little attention to public engagement and behaviour change, in favour of techno-fixes and decarbonising supply – which are simply not enough to meet the scale of the challenge.
As Lorraine advocates, over the next year there is work to do to consciously and strategically engage the public in the design of decarbonisation policies and plans. Without putting people at the heart of the transition, plans are not only set up to fail – but also run the risk of being unfair and unworkable.
Dr. James Graham, Senior Research Associate at CAST, works closely with businesses and organisations on their transitions to 'net zero'. One of his reflections at COP26 was the fact that organisations which are already interested in transforming themselves are waiting for stronger and more coherent messages from the UK Presidency about the changes they need to make, so they can plan more effectively for what comes next. 
James notes the huge breadth of climate expertise and passion for ambitious climate commitments at COP26, that was not harnessed as powerfully as it could have been. Our Research Associate and co-Investigator at CAST, Dr. Kat Steenjes, felt the same. In particular Kat was moved by the voices of people living on the frontlines of climate change – for example, those of indigenous communities who have done so much work to protect carbon sinks and yet which face the worst of climate impacts. She reflects on how there is a need for much more space to really hear the anxiety of people on the frontlines, and to have honest and difficult conversations about what this means for the lifestyles of those of us living in countries like the UK. 
All of our CAST colleagues noted something quite palpable this year – that the media and people from around the world were more engaged in the conversation around COP than ever before – although the majority of them were outside the negotiating spaces where governments were. This sends a strong message to governments to find ways to engage with this passion and commitment of people more effectively.
Putting people at the heart of climate action on the road to COP27
So what will CAST focus on for the next 11 months?
Well, CAST will continue to ramp up its activities conducting research and working with governments, institutions and people on how to transform lifestyles and infrastructure towards net zero across the areas of food and diet; transport and mobility; material consumption and heating and cooling. 
On the road to COP27 we are also going to work with partners across the world to build awareness about how critical people's actions and agency are for reaching the net zero targets already set by governments.
If you are interested in keeping up to date with CAST's work in this critical year for climate action, sign up to our newsletter at the bottom of this page. And if you are interested in working with us, please reach out to us at info@cast.ac.uk.