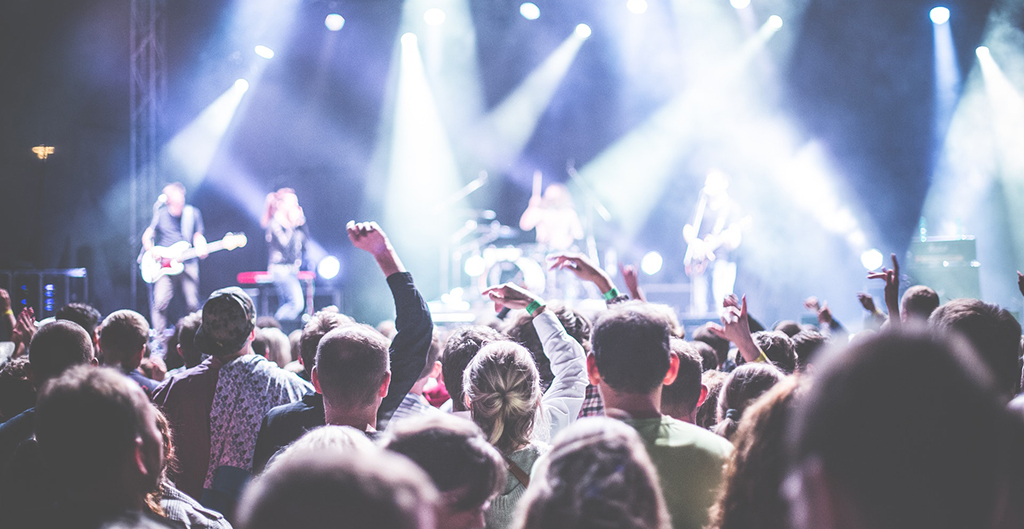 After two years of cancellations, postponements and last minute Covid-19 no-shows, a full programme of live music and festivals is now finally underway again in 2022.
Rewind to just before the pandemic, and some long overdue conversations were gradually getting louder, around how music could respond to the climate crisis. Taking the lead from pioneers like Massive Attack, Shambala Festival and Julie's Bicycle, serious discussions about sustainability were at last reaching the mainstream.
Coldplay announced they wouldn't be touring again until they could do so sustainably. Billie Eilish turbo-charged the Music Declares Emergency campaign by sporting a 'No Music on a Dead Planet' t-shirt. Researchers at the Tyndall Centre for Climate Change (with a little help from Massive Attack), started mapping out what truly sustainable 'super-low carbon' live music could look like.
Now that the crowds have returned to city venues and festival sites, it's time for the words to become action. That means taking aim at the carbon footprint of live events, but it also means mobilising the powerful 'cultural footprint' that artists and events have, and harnessing the power of music and culture to catalyse faster progress on climate change.
In a new project supported by CAST's Impact Fund, a group led by Adam Corner (Climate//Communication//Culture), Briony Latter (CAST/Tyndall Centre), and Chiara Badiali (Music Lead at Julie's Bicycle) will be creating a resource for the live music industry focused on positively influencing the travel choices of live music audiences.
The project involves pulling together psychological and social science research on sustainable travel into a guide that people working across live music sectors can use to support their sustainability plans and communication. So that the resource is as useful as possible, we're convening two online roundtable discussions, one focused on greenfield festivals and the other on urban/city-based live events and festivals. We're also carrying out some short surveys with our festival partners Shambala and From the Fields (Blue Dot/Kendal Calling) to provide a focused case study of the (social) barriers and opportunities to making audience travel around live music events more sustainable.
The roundtables will include promoters, event organisers and sustainability leads, policy and green transport specialists, and representatives of groups who focus on ensuring live music events (and the travel either side) are inclusive and safe for all fans. As well as steering us towards the challenges live music faces in terms of influencing audience travel choices, we'll hear about and highlight the positive steps that have already been taken by the industry.
Through initiatives like A Greener Festival, Julie's Bicycle Creative Green, or Vision 2025, many (perhaps most) festivals and large events have started giving some consideration to eco-conscious practices. Waste reduction, making menus less meat-heavy, and so-called 'green riders' are all becoming more commonplace. But one part of the carbon footprint of live music events has remained stubbornly resistant to change: how the hundreds of thousands of fans who attend live music events in the UK each year travel to and from the shows.
And audience travel choices really matter: for many events, audience travel is one of the biggest (if not the biggest) contributors to the total carbon emissions of the event, and was first identified as one of the major indirect sources of emissions from the UK music industry over a decade ago.
As with most parts of the climate debate, this is not something that can be easily reduced down to a question of purely personal choices. Tents and slabs of beers fit nicely in the boot of a car, but are trickier on a train. Far-away fields and other picturesque green spaces are perfect for creating an immersive, self-contained music experience, but they don't usually contain train stations. More seriously, not all gig-goers feel safe leaving urban venues at night on foot or public transport (if late-night public transport connections are available in the first place), and people with mobility and access needs can't necessarily transport heavy loads any other way and can face other barriers to using public transport. In some cases, how audience members currently attend live music events is the only way that's (currently) feasible for them.
But for a percentage of live music fans, travel choices are – as in so many other areas of life – sometimes habits, or decisions imposed on them by the options available. And here, there is psychology and social science research that has looked at exactly these questions, but in a non live-music context: how and why do travel habits and choices change, and what can be done to positively influence these decisions in a more sustainable direction?
We'll be creating a resource that responds to this question, and launching it at the end of the year in time to support and influence the planning and audience engagement around the 2023 season. If you'd like to know more about the project, you can contact us through the Climate//Communication//Culture website.
By Adam Corner