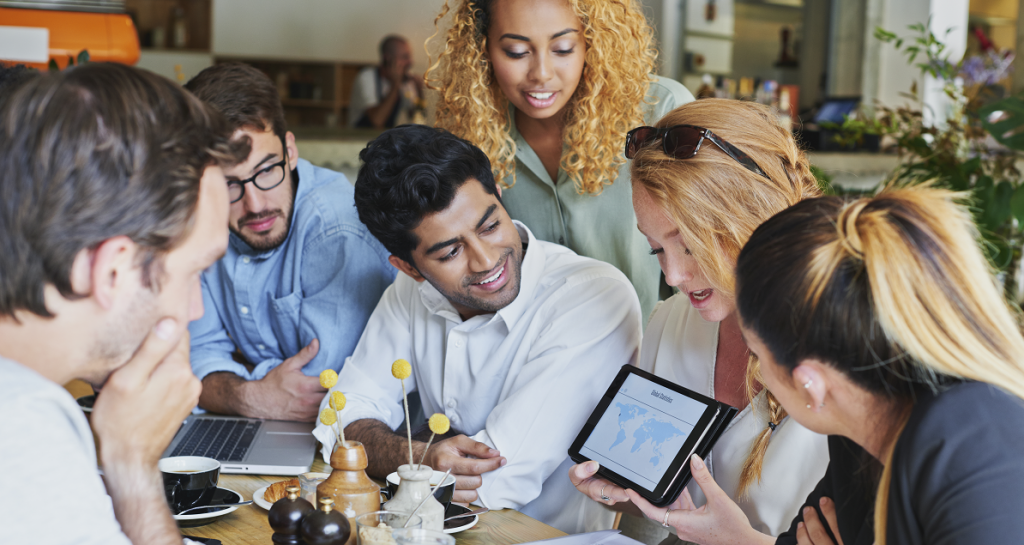 Collectively, small and medium-sized enterprises (SMEs) make a significant contribution to carbon emissions. Transformative changes are needed to achieve Net Zero amongst the SME population, presenting policymakers and practitioners with a complex and largely unresolved set of challenges.
Colleagues from Oxford University, Open University Business School, and CAST partner Climate Outreach recently published an article in Corporate Social Responsibility and Environmental Management, calling for a more nuanced and evidence-based use of values when engaging SMEs on climate change.
Research findings
We drew on a series of linked research projects in the UK and Pakistan conducted between 2015 and 2020. The projects involved the owners and managers of SMEs, along with support providers, energy advisors and other intermediary actors.
Through a series of workshops and in-depth interviews, advisors told us that their most effective engagements with SMEs are when they are able to connect with businesses at the level of mission, values and purpose. But that's easier said than done.
It is much easier to promote the benefits of energy efficiency, renewable energy, or behaviour change initiatives on the basis of cost savings. But financial approaches can lead to short term, transactional engagements and rebound effects. Framing climate action around 'payback' raises expectations, and appeals to SMEs on the basis of self-interest only, when evidence suggests that there is scope to draw on a much broader range of values.
We created a free online course and toolkit to help advisors identify and connect with the personal, professional and organisational values that shape the cultures of these businesses. We used the Theory of Basic Human Values, developed by Schwartz, which identifies 10 core values, developed using thousands of worldwide surveys.
The Theory of Basic Human Values, a visualisation of 10 core values, developed by Shalom H. Schwartz (Schwartz, 2012)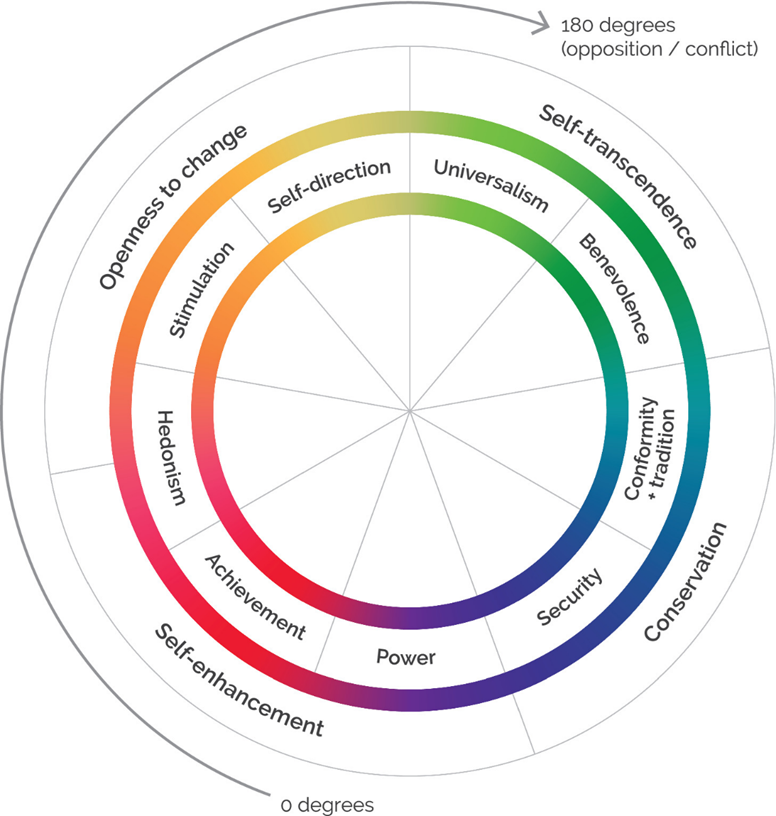 We re-deployed this well-established psychological framework in our workshops and interviews,  with the visual representation of the ten core values providing a useful heuristic. We found that it resonated with advisors, who enjoyed reflecting on their own values, and were able to reflect on how they could be projected onto various SME clients.
Rather than tell them how to do their job, we were keen to work with advisors to co-create the toolkit. For example in one workshop there was a discussion about how tensions can emerge between different sets of values and priorities in their client's businesses, derived from its original mission, the personalities of its owner, or its industry and activities. In addition, individual staff members bring their own personal values, but also have to respond to the demands of particular job roles. For instance, the Financial Director of a business might struggle in their role if they're a natural Hedonist!
'The values trinity': A visual resource co-created for the values-based toolkit, to show how multiple sources of values can act on different individuals in SMEs.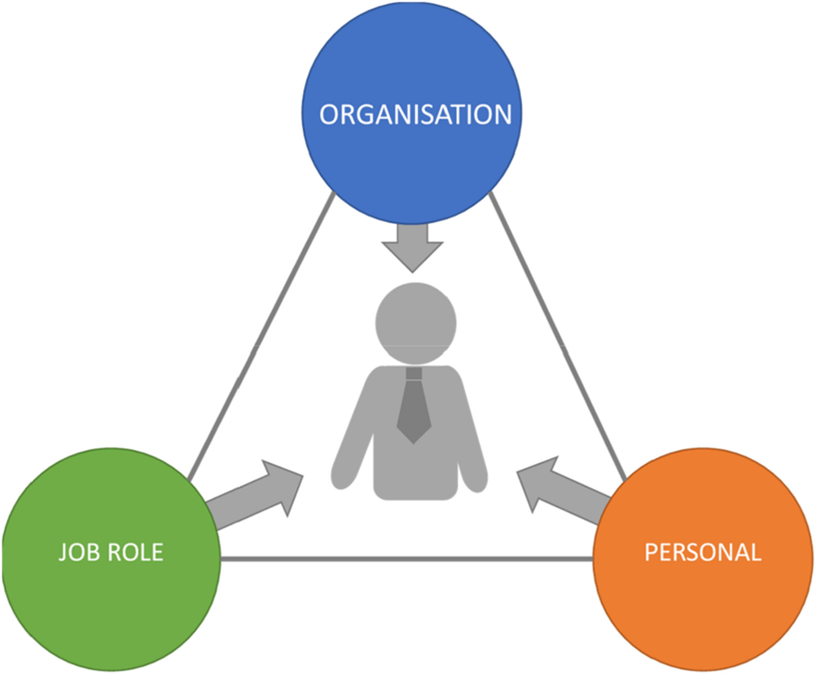 One of the key messages that emerged from our research was that there are no types of values which are wholly incompatible with climate action. However, it is important to recognise the range of values that are in play, and how they vary between individuals and organisations. V values tell us what really motivates people, so if they want to promote large-scale decarbonisation, advisors will need to adapt their approaches accordingly.
During our interactive workshops, we explored the language and narratives which may resonate in different organisational cultures, and with individuals holding different values. In our toolkit we overlaid these on the original diagram.
Applying the Schwartz framework: During our workshop discussions we identified key words relating to environmental responsibility which are likely to resonate with small and medium-sized enterprises holding different value-sets.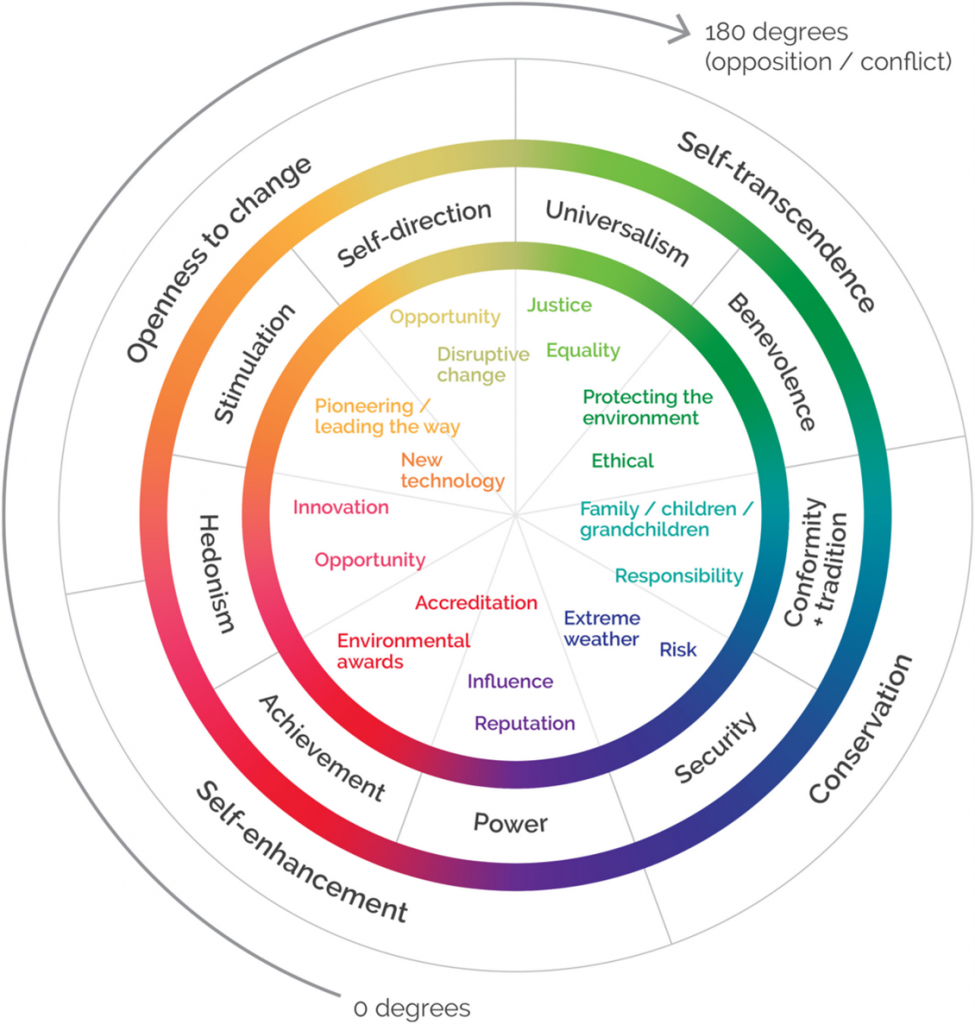 Conclusion
Our programme of collaborative, action-oriented research demonstrates that in order to support SMEs to rapidly decarbonise, policy and practice needs to move beyond the purely cost-saving arguments and techno-economic rationalities of a conventional 'win-win' discourse.
Intermediaries can be critical agents of change, but they need to be equipped with the resources and skills to maximise their effectiveness at scale. We also need a more supportive policy and research infrastructure to help them effect transformational change amongst the SME community.
By Sam Hampton and Richard Blundel